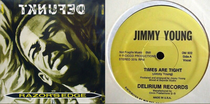 Gary Crowley said "It would've been predictable for me to choose a Style Council track for our forthcoming @DemonMusicGroup  #GCLost80s CD/Vinyl compilation, so I decided to choose 2 songs the band covered & peppered their early 'live' set with instead."
See the track listing: smarturl.it/GC_lost80s
To extend on this
TIMES ARE TIGHT was played on Paul's 25th birthday 1983 & was aired on Radio 1.
RAZORS EDGE was played on The Tube & Council Meeting tour 1984.
Not so easy to find who sung & then buy them back then  - Gary's brilliant compilation is out soon.