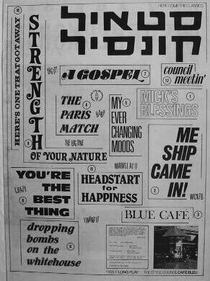 If the masterpiece that is CAFÉ BLEU was released as originally intended (without the hidden track 2) then The Jam's lead vocalist would sing on only 1 of the first 7 songs with his new band. On a debut album. No singles. Brave. Groundbreaking. 
A classic #thestylecouncil
CAFE BLEU: Paul was raving about how it would be a double LP, 'one side romantic, slightly sad, a bit moody, 2nd side more funky, 3rd side with today's pop songs and the 4th side with remixes of the singles.' One thing he had not planned for was Polydor's reaction ...  ❌
The Style Council cancelled the December '83 tour to finish CAFE BLEU. This video shows the "road to Café Bleu" with SIX of the 13 tracks not known at all during a hectic 1983. Including the 4 singles would have made it a lot easier for them & Polydor. 
But Paul said NO SINGLES!